Woodsmith Plans Newsletter
Feb 17, 2017
CLASSIC
Video Plan
Roll-Around Shop Cart
This handy shop cart is a tool storage center, an adjustable stock support system, and a workstation all in one compact package.
PREVIEW PLAN
CLASSIC
Tool Chests, Benches & Shop Projects
Curved-Lid Tool Chest
Classic box joints and a coopered lid combine to create a stylish home for your tools.
PREVIEW PLAN
CLASSIC
Desks, Home Decor & Accessories
Sliding Lid Boxes
Finger joint boxes aren't too common anymore. But they are still strong, attractive, and can be built quickly and easily.
PREVIEW PLAN
RECENT PLANS
Notebook Computer Desk
Look past the classic design, and you'll find that efficient workspace is the name of the game here.
PREVIEW PLAN
Precision Mortising Jig
Accurate, repeatable mortises are guaranteed with this sliding table.
PREVIEW PLAN
Classic Layout Tool
Ordinary steel bar stock, a propane torch, and a few hours are all you need to created a handy layout tool.
PREVIEW PLAN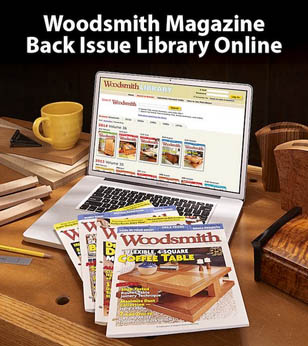 Over 35 years of Woodsmith Magazine Online! Instant access on any web-enabled device, easily searchable by issue, article, tip or technique.
Affiliate Link
Since you are an affiliate, you can use this url to link people to this page and get credited for it: