Woodsmith Plans Newsletter
Aug 17, 2018
NEW!
Classic Craftsman Bed
Quartersawn white oak and Craftsman-era design combine to create this handsome companion to our Gentleman's Dresser.
PREVIEW PLAN
CLASSIC
Tool Chests, Benches & Shop Projects
Benchtop Miter Saw Fence
This no-fuss fence system makes getting accurate cuts with your miter saw as easy as 1-2-3.
PREVIEW PLAN
CLASSIC
Tool Chests, Benches & Shop Projects
Router Mortising Jig
You'll be making mortises in minutes with your hand-held router and this easy-to-build jig.
PREVIEW PLAN
RECENT PLANS
Stylish Sliding Door Cabinet
Little extras are fun to stumble upon... This cabinet provides that with a hidden area that gives you twice the shelf space.
PREVIEW PLAN
Multi-Wheel Sharpening Station
Get your tools sharp and keep them ready to use with this convenient, wall-mounted system.
PREVIEW PLAN
Sliding Lid Boxes
Finger joint boxes aren't too common anymore. But they are still strong, attractive, and can be built quickly and easily.
PREVIEW PLAN
VIDEO TIP
Circular Router Guide
A router table simplifies all kinds of tasks. And with a good jig, you can make the process accurate and safe. This jig is a good example for making controlled cuts on small round pieces.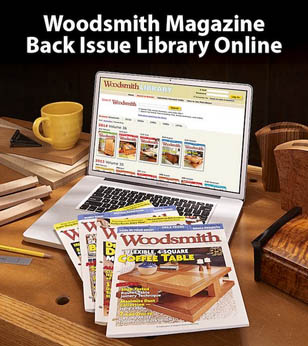 Over 35 years of Woodsmith Magazine Online! Instant access on any web-enabled device, easily searchable by issue, article, tip or technique.