Woodsmith Plans Newsletter
May 17, 2019
NEW!
Shop-Made Pin Router
With a hand-held router and this jig, you can rout a wide variety of decorative designs in your projects. A metal pin and a shop-made template guide the workpiece while you rout the design.
PREVIEW PLAN
CLASSIC
Desks, Home Decor & Accessories
Drop-Front Desk
Keep your home office or spare room organized with an attractive piece of furniture that's as practical as it is stylish.
PREVIEW PLAN
NEW!
Bookcases, Cabinets & Shelves
Wall Shelves
A simple design and mitered corners makes these shelves great to look at and interesting to build.
PREVIEW PLAN
RECENT PLANS
Classic Workbench
Sturdy and solid — nothing on this workbench is fragile. Even the metal vise features heavy wooden jaws, so it has a wide clamping surface and holds a pair of bench dogs.
PREVIEW PLAN
Shop-Built Router Jointer
We'll show you how to build a unique benchtop accessory that converts a common router and a flush trim bit to a powerful jointer tool.
PREVIEW PLAN
Cedar Bird Feeder
Seeding for Two? This project solves the two biggest problems with bird feeders. It has a unique lid that makes it a breeze to fill, and a guard that helps keep squirrels out of the food.
PREVIEW PLAN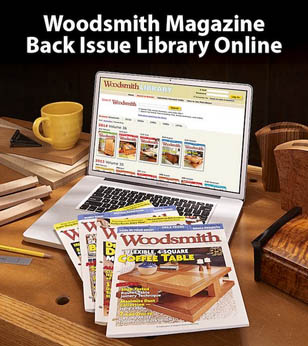 Over 35 years of Woodsmith Magazine Online! Instant access on any web-enabled device, easily searchable by issue, article, tip or technique.