Woodsmith Plans Newsletter
Aug 23, 2019
NEW!
Portable Hobby Chest
Take your favorite hobby on the go with this combination storage chest and portable workbench.
PREVIEW PLAN
CLASSIC
Tool Chests, Benches & Shop Projects
Combination Router Table
A flip-up top adds a new angle to table routing. The result is a unique, two-in-one workstation for the ultimate in shaping and joinery.
PREVIEW PLAN
CLASSIC
Woodsmith Shop Bonus Plan
Craftsman-Style Clock
This mantel clock is small in size, but it's sure to be big in appeal.
PREVIEW PLAN
RECENT PLANS
Wall-Mounted Utility Shelf
This simple storage shelf is great for a workshop, a garage, or any other place where you want to keep things close by — yet out of the way.
PREVIEW PLAN
Craftsman-Style Quilt Rack
An heirloom quilt is a work of art and cherished possession that can really brighten up a room. It should be on display for everyone to see.
PREVIEW PLAN
Clamp Cart and Storage
Have some scrap plywood and an empty bit of wall space? That's all you need to get your clamps organized.
PREVIEW PLAN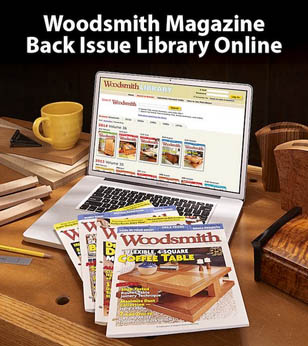 Over 35 years of Woodsmith Magazine Online! Instant access on any web-enabled device, easily searchable by issue, article, tip or technique.