Woodsmith Plans Newsletter
Dec 14, 2018
NEW!
Tealight Candle Centerpiece
Perfect to give as a gift or to decorate your table, this tealight candle holder goes together in just a few short hours in the shop.
PREVIEW PLAN
CLASSIC
Tool Chests, Benches & Shop Projects
Woodworking Drill Press Table
An adjustable fence, versatile clamping options, and a built-in dust collection system make this table a great upgrade.
PREVIEW PLAN
CLASSIC
Desks, Home Decor & Accessories
Three-Tiered In-Box
Identical trays make this stylish desk organizer go together quickly. But the joinery lets you show off your woodworking skills.
PREVIEW PLAN
RECENT PLANS
Butcher Block
This table is the real deal. The end-grain top is designed to take the blows and slices from your finest knives without damaging them.
PREVIEW PLAN
Knock-Down Workstation
Rock-solid, practical, and inexpensive — a versatile workstation you can make from one sheet of plywood.
PREVIEW PLAN
Tile-Top Table
How do you build a sturdy outdoor table without any tricky mortise and tenon joinery? Using pocket screws makes it quick and easy.
PREVIEW PLAN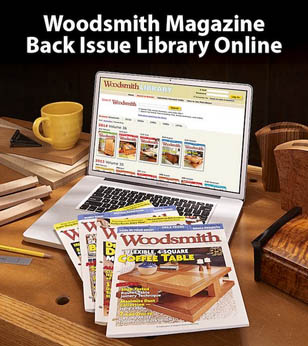 Over 35 years of Woodsmith Magazine Online! Instant access on any web-enabled device, easily searchable by issue, article, tip or technique.